Hardware in use
Obsession
Complete Part list with links
Final price if you would order now all parts would be around ~355$, i would recommend to order at least some sets of props additionally.
The Dquad Obsession Frame is the most expensive part, however i liked the stable frame. To keep it longer i suggest to print the arm protectors, you can download it under https://www.dquad.nl/downloads/. Also printing the battery clip holder in tpu is a good idea, after the first bigger impact it broke ):
One disadvantage from the frame is that there is no flat space on top for mounting camera or a GPS modul, also the antenna is very exposed, that's why I'm using a DIY pagoda with short cable length. (PCBs for it are available at blogs like philipp seidels in the internet. Also tpu protection covers are available on thingiverse (Pagoda Spacers & Cover, print cover with 102-104% size otherwise it will hardly fit).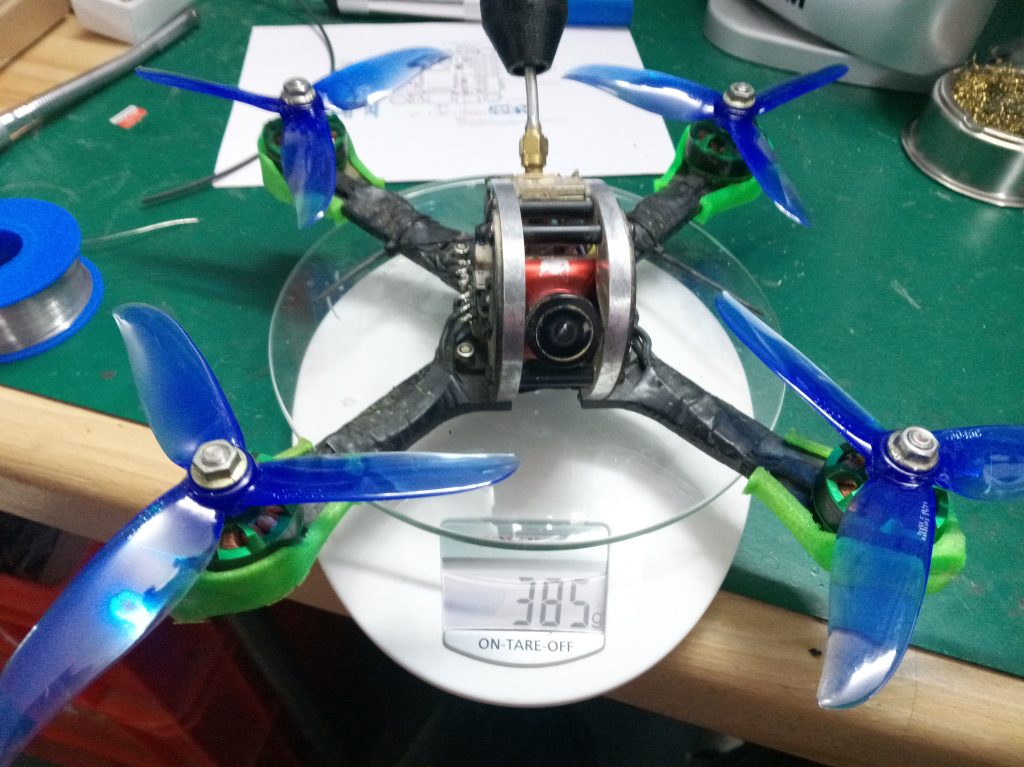 Old Copters
Carbon
Owner: Xeniter
Frame: WARTHOXQUAD
Motors: Sunnysky X2212-6 KV 2450II
ESCs: KISS ESC 24A racing with dshot 600 firmware (1.08)
Flightcontroller: CC3D REVO with Betaflight 3.1.5 with KISS and smart port telemetry
Receiver: X4R (with mod, soldered inverter from smart port out and connected lines)
BEC: AMS1117 5V
Lipo:

Turnigy Bolt 3S, 2400mAH, 65-130C discharge

Props: DJI 8045
Notes: Name Carbon is from the predecessor, now it have wooden arms, which has many advantages: cheap, easy to build new ones, non conductive and nearly as lightweight as carbon
(if you use consider motor holder also which you need for round carbon poles)
Motors have insane high KV for the 8045 props, KISS telemetry showed 113A at full throttle, which makes sense, because they should limit the current at around 30A.
Overview of 2016n: 3.1.5n: 3.1.5
Chi
Sunnysky 2700kV
KISS ESC 18A
CC3D with Betaflight